Perfectly cut grass, mild temperature, a light breeze and a great desire to close an ace before the end of the day. One of the most popular and appreciated sports in Italy is golf. Suitable for all ages, it improves the cardiovascular system and has a positive effect on health, as well as helping concentration and precision both on and off the course.
Finally, after so many restrictions, it's time to travel and fortunately, both in Italy and abroad, there are many immaculate courses to discover! We have prepared, after many swings, a list of our favorite locations in which to immerse yourself in the green and enjoy a weekend of golf, relaxation and why not, even a little adventure and exploration.
The first one we are going to present is the last one we had the pleasure to visit and from which the photos of this article are taken: Argentario Golf Resort. Alone or accompanied, this place is ready to surprise you and make you admire breathtaking views all along the 18-hole golf course. Another of its specialties is its proximity to the sea that will allow you, as soon as you want a break, to take advantage of a sailing boat ride to explore all that Argentario has to offer. As far as the golf course is concerned, we can summarize it as follows: well-equipped, splendid panorama and lots of fun
Let's fly south to discover the Verdura Golf Sicilia. Designed by the American architect Kyle Phillips, already known for the many golf courses designed around the world, it is designed with 18-hole and a 9-hole par 3 course that will not only leave you breathless, but will also make you discover all that the coastal landscape of Verdura has to offer. Professional or novice, this is the place for you.
For those who want to get out of Italy and discover the Alps from a different perspective, Switzerland is waiting for you! Golf Crans-Montana, close to the ski resorts and below the peaks of the Alps, thanks to its qualities and its carefully designed courses, is first of all the annual venue of the Omega European Masters. With its three courses, including the famous 18-hole Severiano Ballesteros, it will allow you to enjoy a rejuvenating vacation with excellent temperatures for playing and perhaps some breaks on the mountain trails.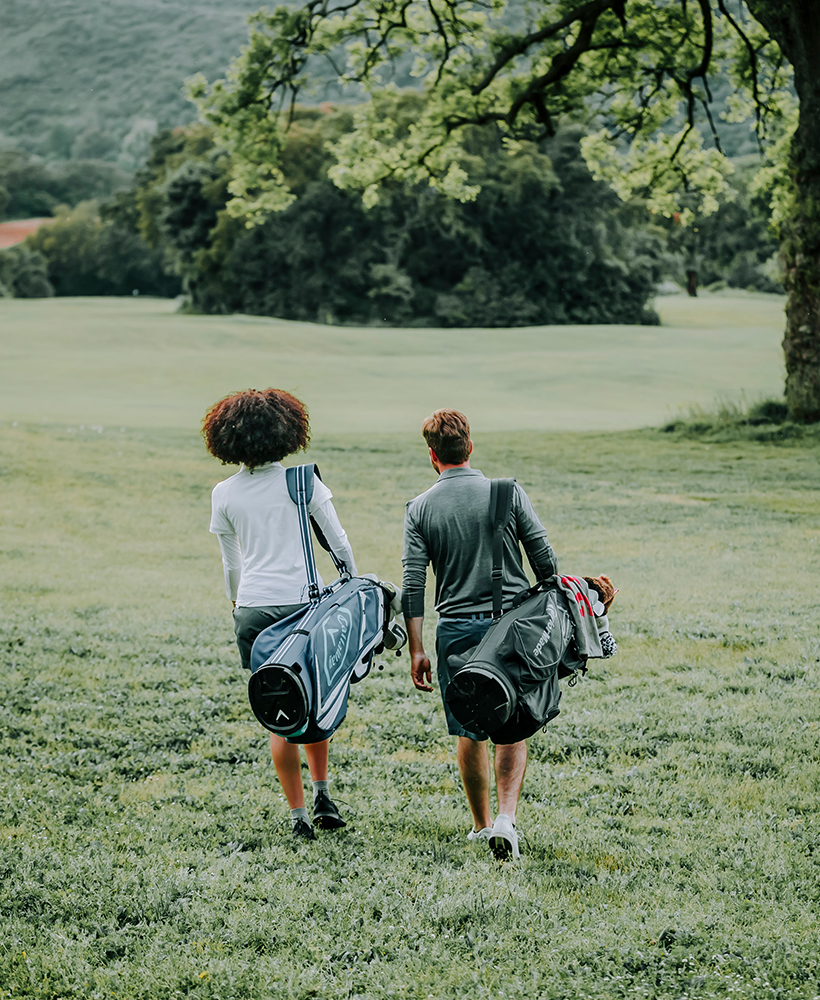 Golf is a constant evolution, every day, every shot.
– Tiger Woods 
Last, but not least, San Domenico Golf, the great green on the Apulian sea. With the reputation of being among the best in Italy, has a field of 6,300 meters of lawns to 18-hole finally placed right on the edge of the sea. Designed by European Golf Design it will allow you to play, enjoy the sea breeze and study all the strategic points that this land has to offer. It's never late to improve and set yourself new challenges!
Whether you are in the mountains or by the sea, one of the most important aspects will always be the clothing with which you will face a day of golf. Overdressed and you risk not only being too cluttered during your swing, but also possibly sweating and not being able to be comfortable between holes. Too uncovered and you may fall prey to insects or the cold.
Golf requires precision and tranquility and all of this can be provided by one fabric in particular: merino wool. Breathable, it doesn't smell, it protects from UVA rays and will allow you to thermoregulate throughout the day, so that the only worry you'll have will be your swing and that hole you've always dreamed of closing in one shot.