A breeze ripples the waves. The sand takes on that beautiful golden colour that reflects the sun and reveals a few more shells. The waves collide with each other and that taste of the sea we were so looking forward to is here, on our skin. Summer has arrived and with it the desire for adventure and sailing!
Although winter is a perfect season for sailing, the pleasure and relax of summer is unbeatable. So we decided to discover this wonderful activity and enjoy a few days in the waves and the sea breeze. Our destination? Tuscany, in the province of Grosseto, at Monte Argentario for a few relaxing days, full of excitement, fun and, why not, discovery. The islands of Giglio and Giannutri also await us along the way, because a sailing trip certainly can't stop at just one place.

But we haven't left anything out, especially our outfits. With us, there were the Rewoolution products, ready to be tested. Merino wool for the climatic conditions that await us could be the perfect ally: breathable for the warmest moments, warm for the moments of speed and cold and comfortable for every movement from bow to stern.
After a few miles we start to really appreciate the Argentario, ruched sea, but without big winds or waves, pristine beaches and water so clear that you just have to dive in! We start to go out to sea to the island of Giglio and we can't help but be enraptured by its beauty. The colourful houses and unspoilt nature captivate us, but it's time to change our outfits and set off again, before the weather, which has been too changeable in recent days, hits us with an unexpected storm.
Temperatures are dropping and so we start testing even the warmest and most opaque Rewoolution products: Nollie is our choice. Warm, soft and light thanks to its merino wool fabric, it offers thermal insulation and completely eliminates the accumulation of moisture. We can only say that it is truly ideal for outdoor activities.
After a few hours, we reach Giannutri, the southernmost island of the Tuscan archipelago and the southernmost point of Tuscany. A wilder place than the previous ones, but undoubtedly spectacular. With its archaeological remains and sheer cliffs, it is the perfect place to end our crossing. What awaits us now? Lots of sun and some well-deserved relaxation.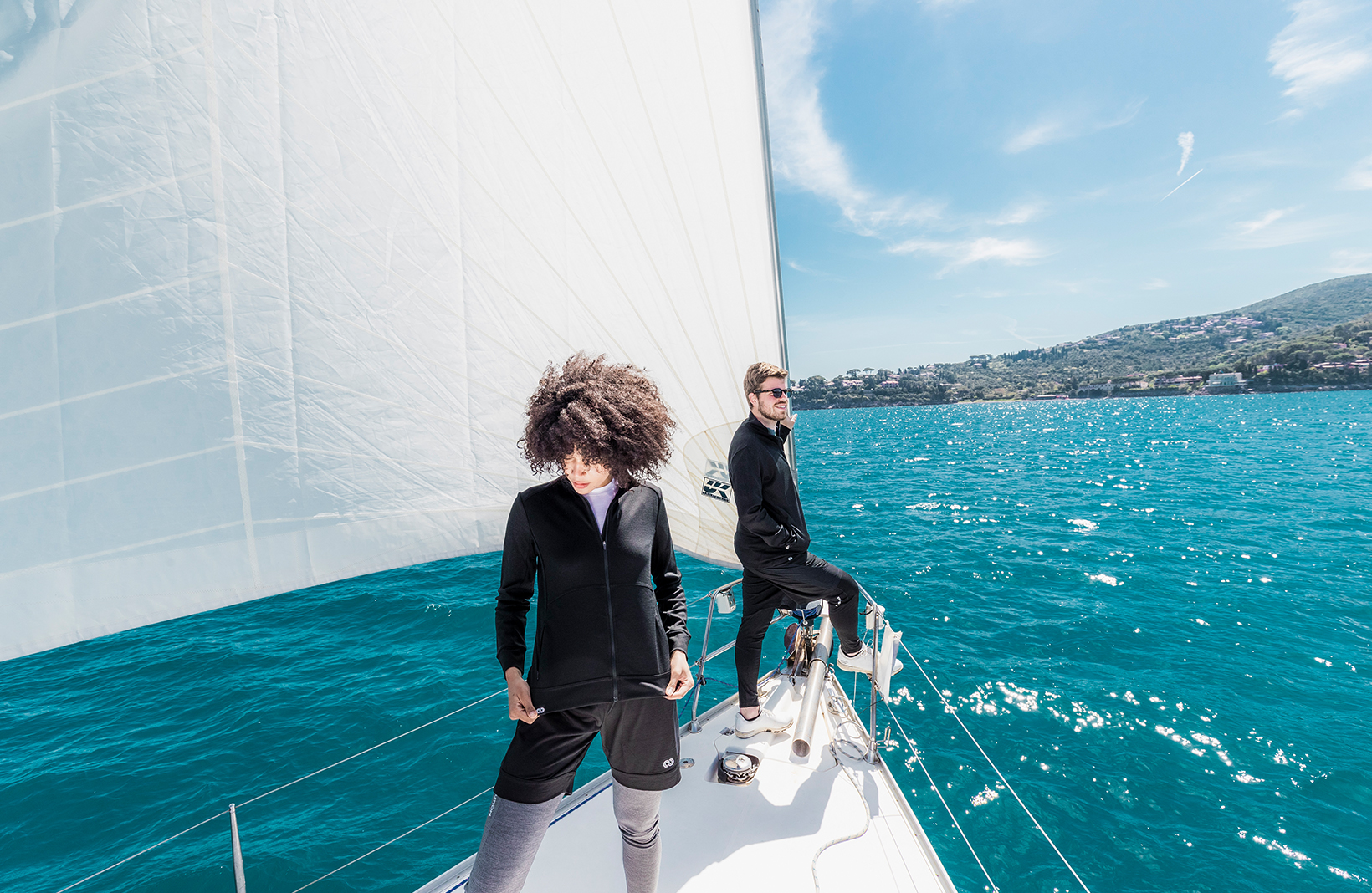 What can we say about Rewoolution products after these days of testing? As we predicted, merino wool is the perfect choice for sailing, thanks to its excellent thermoregulating principles, but also the possibility to carry out intense activities without leaving any smell. In addition, thanks to its breathability, it dries very quickly, which makes it an excellent choice even after sudden heavy rain.
Text The Pill Magazine
Images Maurizio Rellini