South Island, Canterbury region, Mackenzie county.
1° STAGE: PETER'S LOOKOUT
Our trip to New Zealand is also a journey to discover our origins. This is where the merino wool of Rewoolution garments comes from. Here, 30 minutes by car from Lake Pukaki, the sheep at our farms are grazing freely.
We are in the Mount Cook National Park (Aoraki in the Maori language, "the one who pierces the clouds"), along the windy SH80, a meandering strip of asphalt that leads through breathtaking landscapes to the peak that is a symbol of the country. A stop at Peter's Lookout is practically a must. This is a privileged vantage point from which to admire the imposing mountain range and the incredibly blue glacial lake. Here, where nature reveals itself in its purest form and each day can cycle through every single season, we rely on Rewoolution wool for its comfort and thermal resistance.
Called Aotearoa by the Maori, "the land of the long white cloud", New Zealand is an earthly paradise where the coexistence of multiple ecosystems is both spectacular and an occasion for reflection.
We are on the shores of Lake Pukaki, with sky-blue waters and snow-capped peaks that stand out along the horizon. This place is so peaceful and remote that it reminds us of how small we are in Mother Nature's vast kingdom. Here, in the last outpost of the southern hemisphere, we practice the art of layering, dressing up in layers to protect ourselves from the changing weather conditions.
The merino wool that Rewoolution garments are made from actually comes from here: from the New Zealand sheep whose fleece has natural (and extraordinary) thermoregulating properties.
3° STAGE: MOUNT COOK NATIONAL PARK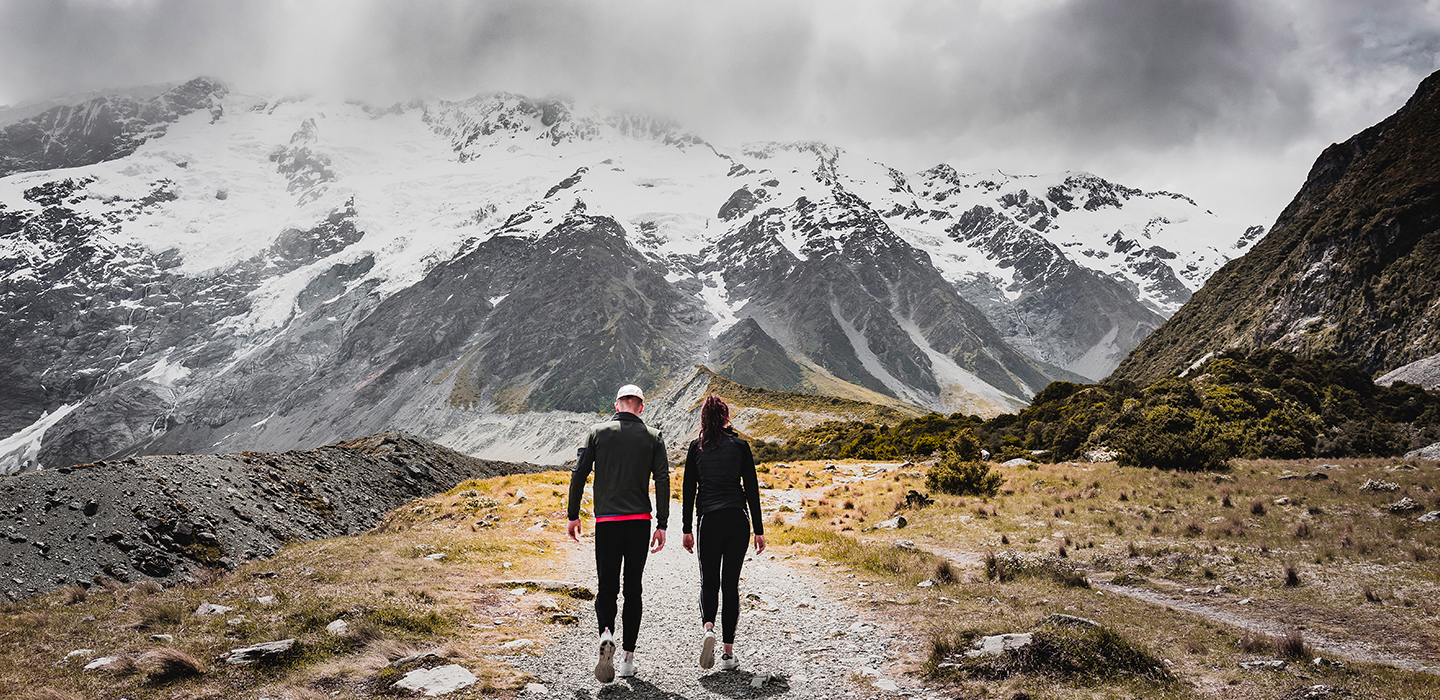 The beauties of nature are New Zealand's main attraction. Its enormous environmental heritage is preserved in numerous national parks, such as the Mount Cook National Park.
The park, which takes its name from the country's highest peak, is an essential stop for anyone planning a trip to New Zealand. A summer destination for incredible high-altitude trekking, it is ideal for mountaineering and skiing in winter. Part of the Southern Alps, the country's main mountain range that runs along South Island's western coast, Mount Cook (3,700 meters tall) pierces the clouds, just as its Maori name – Aoraki – says.
The thermoregulating and breathable 100% Reda Active® Merino technical fabric of our t-shirt and leggings is comfortable like a second skin. The light but warm Merino Punto Roma jackets and vests are perfect for tucking into your backpack during trips and taking them out whenever necessary. The T-shirts and pants are made of 100% Reda Active® Merino technical fabric, breathable and soft against the skin. The jackets made of Merino Punto Roma, light but very warm, protect us even in extreme conditions.